Providing the best business management solutions for the construction industry. Ujimatec and Acumatica partnership delivers construction software built for success.
Ujimatec is pleased to announce a new and exciting partnership with our partner Acumatica, a growing business management software solution provider across the globe. Ujimatec Corp has joined Acumatica's partner program to add Acumatica's cloud ERP platform to its leading portfolio of products. Acumatica's future-proof platform provides a solution for customers who require rapid integration and need to access their data on any device, anywhere, anytime whilst also ensuring their business continues without interruption.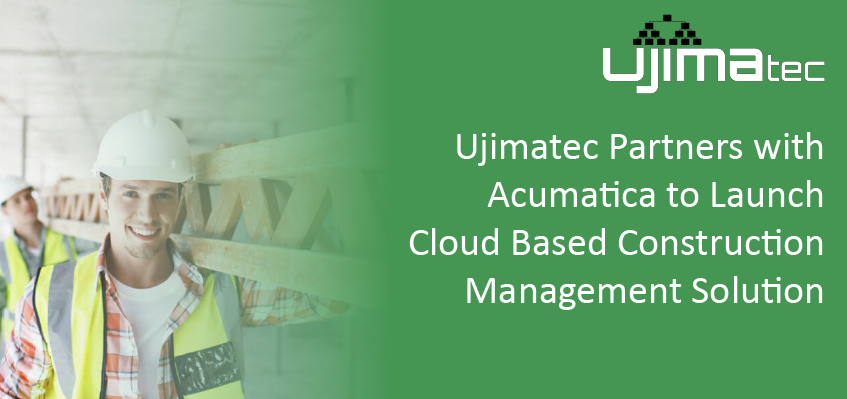 "Acumatica will be well represented by Ujimatec in project focused industries in North America. Ujimatec brings the ability to integrate multiple systems into Acumatica's industry leading business management solution. The construction industry has been slow to adopt a digital transformation, and Ujimatec can facilitate that industry by integrating many different apps used today into a single version of the truth, and with strong mobile capabilities. They will also be able to solve similar industry issues across project focused companies needing Cloud computing technology.
Ujimatec will strengthen Acumatica's market position, providing a strong customer centric partner approach, enabling their customers to grow faster and more efficiently through the Cloud. Their corporate values, do the right thing, honor relationships, communicate & collaborate with clients, and be transparent in all aspects of the project, align closely to Acumatica's own Customer Bill of Rights." – Curtis Maxwell, Partner Enablement Manager, Acumatica.

The Ujimatec & Acumatica Difference
"Acumatica is a game-changer. Through leading edge technology and scalable, growth-friendly business practices, Acumatica Cloud ERP has earned a reputation in the industry for high product usability and customer satisfaction. This is no ordinary business management system. Acumatica provides a business management platform in an ecosystem of partners and developers that are all working together to build the most flexible and robust solutions. This allows Ujimatec to work towards our mission to build & provide the most customer centric, value driven software solutions for the construction industry." – Louis Lomax, CEO & Co-Founder of Ujimatec Corp.
"While working with Microsoft, Oracle & Sage for over 20 years, we wanted to drive more intuitive and innovative technology solutions to our customers. Looking specifically for a product using the latest technology, built for the cloud and configurable with high end-user adoptability, we found Acumatica as our platform. With different options available for deployment, support, payments & more, we find Acumatica to be the optimal solution for construction companies looking to unite their team, simplify their software systems and support their business for growth. While we put a focus on construction, Acumatica has multiple industry editions like Manufacturing, Field Service, Distribution & more, giving Ujimatec the possibility to expand into new markets!" – Rob Morris, COO & Co-Founder of Ujimatec Corp.
Ujimatec provides customer success & value-driven software solutions to accounting, finance & executive teams within the construction industry across North America. Today, Ujimatec's portfolio of solutions provide an integral suite for business management, empowering users with intuitive, integrated, cloud-based products. Ujimatec's customer success motivated team is dedicated to providing the ultimate customer experience and to making people's lives easier.
If the last year and a half has taught us nothing else, the future will surprise us. The partnership between Ujimatec and Acumatica Cloud ERP provides construction companies with the best path for a business to thrive—regardless of the circumstances.
To learn more about Ujimatec's Cloud ERP Software or how Ujimatec can help your business level up. Contact our team today.